State of Florida Approved ADI Course
Any driver who is searching for an online Advanced Driver Improvement course should choose one that's approved by the Florida Department of Highway Safety and Motor Vehicles (DHSMV).
DHSMV, or the "Florida DMV" as it is sometimes called, is the government agency in charge of making sure traffic safety courses meet state requirements.
You don't have to worry about getting an "out of state" course when you sign up through EasyADI.com, since the course we offer is fully approved by the State of Florida (DHSMV)!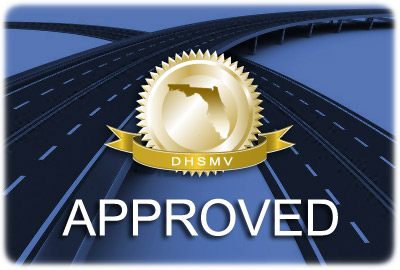 "Thanks for helping me get my Florida license back!"
– Samantha W., Key Largo
Reasons for ADI Course Attendance
This 12-hour online Advanced Driver Improvement course is State of Florida approved for drivers who fall into any of the following categories.
License Suspended / Revoked by DMV – If your Florida driver license has been suspended or revoked for too many Florida speeding tickets or other moving vioations, you fall into this category. You can sign up now for DHSMV approved ADI to get your Florida license reinstated or to qualify you for a hardship license.
Habitual Traffic Offender – A Habitual Traffic Offender is a person who has committed too many dangerous traffic violations in a short span of time, or who has committed multiple offenses of a particular type of violation, such as reckless driving. If you are a habitual traffic offender, you will receive a letter from the State ordering you to attend an ADI course. You can sign up for this convenient online course to if this applies to you.
Court Ordered ADI – The last category is Florida drivers who have been ordered by a judge or court to complete a 12-hour ADI course. These drivers usually will have a history of traffic offenses or special circumstances that prompted the court to order them to a more intensive type of driver training.
A completion certificate from this course can be used for Florida driver license reinstatement if a driver's Florida license has been suspended or revoked for excessive traffic ticket points, habitual traffic offender status, or other reasons. The online ADI course enrollment letter from this course can be used to apply for a Florida hardship license.
Advanced Driver Improvement Can Be a Positive Experience
The State of Florida wants traffic offenders to receive education that will prompt them to change their driving habits. That is why individuals are ordered to attend an ADI course. However, ADI can be a pleasant learning experience that will benefit the person who attends the course.
Remember that you determine what you will get out of your learning experience. Give the online course a try and we believe you'll be satisfied with your decision.
If this sounds like the best plan to fulfill your ADI requirement, please click "Register Now" to get started with your course.
State of Florida Approval